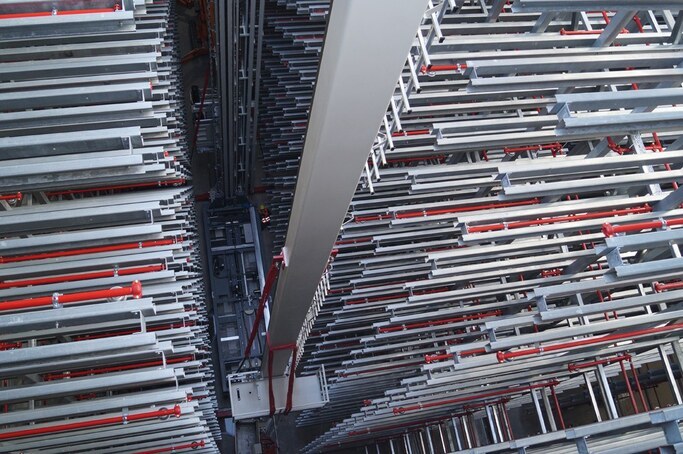 05.March 2021
24-meter-high rack serve carrier mounted and put into operation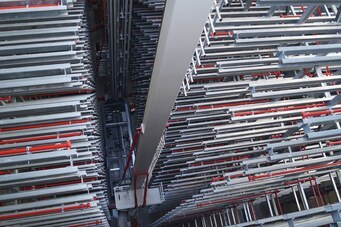 Whether it is lifting the long upright side structure or the lifting platform through the roof opening or aligning the carrier with the rail and the guides. Despite the large masses involved, an enormous degree of precision is required at every point. "Of course, we also have corresponding tolerances and, as we all know, a few inaccuracies usually occur all by themselves. Therefore, it is also particularly important that we set up and align everything as precisely as possible right from the start," explains senior fitter Gennadij Lier, who has been working for SYSTRAPLAN for almost 25 years and has already set up many systems.
The challenges that a special machine construction company faces with such a large project are already special, but thanks to the many years of experience of the employees and good cooperation between the individual departments, this can nevertheless be realized well, also confirms SYSTRAPLAN plant manager, Rafael Tajuelo. "Thanks to the good preliminary work and proper planning at an early stage, we were able to set up both vehicles in their aisles within just one week with the help of the appropriate logistics partners, their lifting equipment and our experienced employees on site."
The height of the rack serve carriers is impressive and the combination of stacking and individual panel transport is probably unique. For both, the worktop warehouse and the half-size panel warehouse, the order picking of a commission directly on the platform of the rack serve carriers for the furniture manufacturer's downstream production is an enormous advantage.