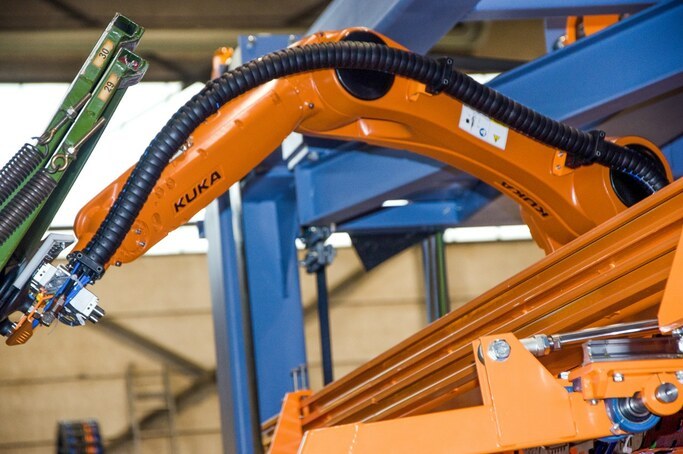 12.August 2022
Robots for folding the sides of leaf trucks have proven their worth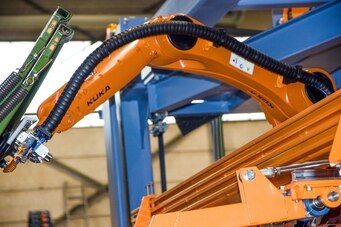 The robot arm was initially offered as an option to the conventional folding device from SYSTRAPLAN and ensured that there was a smoother movement when closing the leaf truck sides than with the conventional device. This drastically reduced wear due to gentler handling and avoided long downtimes that affected the entire line. For plants of this type, therefore, the robotic arm has now become the gold standard.
During the loading process, the vacuum suction cup of the robotic arm sucks the underside of the next leaf truck page and pulls it down until the pneumatically activated hold-down devices can take over from above. The vacuum suction is then released and the leaf truck side is folded in a fluid motion from the hold-downs into the horizontal position so that the belt tray can insert the next batch of treads into the leaf truck. This synchronized movement optimizes the cycle time and thus the efficient loading of the book cart and guarantees a fast process. If you want to get a detailed impression of the process, we also have a video of the system in action on our YouTube channel.
Since the robot arm itself is a standard industrial robot from KUKA, it is of course tried and tested, very resilient and accordingly low-maintenance. In addition, a teach-in function allows leaf truck with different opening angles to be easily programmed and integrated into the sequence.
We have thus succeeded in taking another decisive development step to make the systems for loading the leaf trucks even more flexible and reliable for continuous use in tire production. Ultimately, however, this system not only offers advantages in terms of efficient operation and flexibility, but is also much quieter than other systems. The reduced noise pollution naturally also has the effect of creating a more pleasant working atmosphere around the plant.
We can therefore speak of consistently positive experiences that have made SYSTRAPLAN's automatic tread booking systems even more attractive to our customers in the tire industry. In the meantime, more and more such systems with a combination of robot arm and hold-downs are being used. Of course, we are constantly trying to improve the whole concept, if possible, and will be pleased to keep you informed about all innovations.
If you would also like to benefit from automatic tread booking systems or other innovative concepts in material flow technology, simply get in touch with
our contact persons
or use
our basic data collection
. We will then arrange a consultation appointment with you and discuss your individual solution.