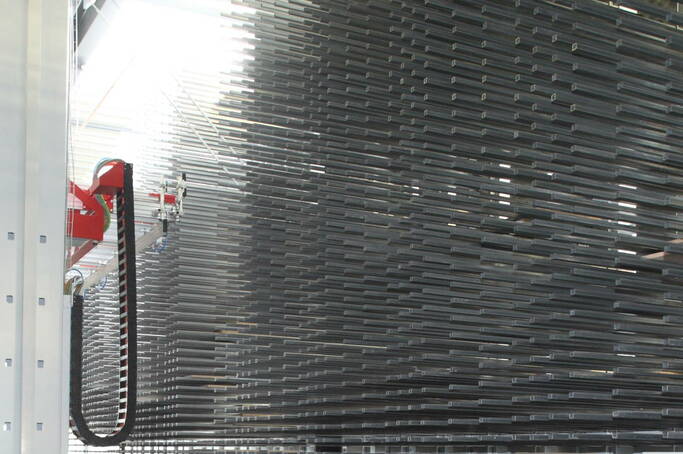 26.October 2023
Optimization of the production landscape - The compact sorting warehouse from SYSTRAPLAN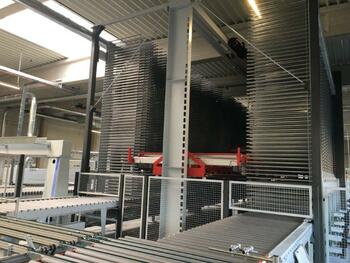 What exactly is a compact sorting warehouse ?
It is an innovative system that is used to buffer workpieces between individual processing steps. This is done in an optimized sequence so that they are available just-in-time for the next machining step. Such a system is not only ideal for optimizing the manufacturing process in the production of furniture parts, but also offers completely new possibilities for rational production in various areas.
Advantages of the Systraplan sorting warehouse
Increased efficiency in production
The implementation of a
compact sorting storage system
contributes significantly to an increase in efficiency. The challenge of an increasing number of variants with simultaneous order-related single piece production is optimally addressed.
Application areas
One example of the versatility of this system is furniture manufacturing, where there are numerous production steps, from panel cutting to edge processing to packaging. However, the sorting memory is not limited to this area; similar tasks can also be found in other industries, which can be addressed by the system.
Goals and optimization potential
The goals of the
compact sorting storage system
include optimizing active processing times, changeover times and smoothing peak workloads. The system makes it possible to ensure consistent production while making the best possible use of resources and minimizing waste.
Technical aspects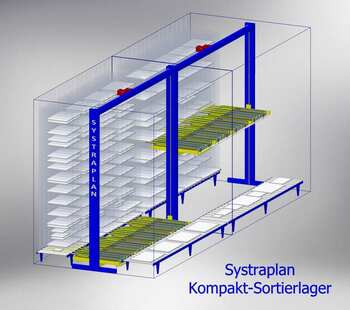 Each workpiece received in the compact sorting store is identified by means of a barcode. This enables precise storage and automatic batch formation. For the next processing step, batches are automatically assembled in the memory according to priorities such as thickness, color or edge type.
Capacity and performance
An example of the performance of the
compact sorting storage system
can be seen in the furniture industry: with average part dimensions of around 1,000 x 500 mm, a storage system can hold up to 1,320 parts. And with a mechanical cycle rate of about three cycles per minute, the impressive performance of the system is evident.
Discover the future of production with SYSTRAPLAN
SYSTRAPLAN's
compact sorting storage system
represents a revolutionary solution in the world of production logistics. With its technical sophistication and adaptability to different industries, it offers companies the opportunity to significantly increase their production efficiency. For companies looking for a solution to optimize their material flows and streamline their production processes, the
compact sorting storage system
could be just the right tool.
It's worth taking a closer look at this system and experiencing the benefits for yourself.
Feel free to contact us or use our contact form
!